How to park a car at 11 Mazowiecka St.
Observations based on around 30 parking situations on weekdays at 11 Mazowiecka St.:

1) The following observations are mainly important for those who will collect correspondence by car, as this will be done regularly.
2) The best hours to visit Mazowiecka by car are 09:00 a.m. or 02:00 p.m.
3) Photo 1 presents Mazowiecka street at 9:00 a.m. on the dot – it is empty, as Mazowiecka is full of pubs, bars and offices, but there are hardly any residents there. Premises are rarely sold for residential purposes, as it is a clubbing area with a lot of noise at night. That is why most of the tenements house mainly offices.
4) After 02:00 p.m., one should look for a parking space along the line of the following streets: Mazowiecka, then right into Traugutta street and right again into Czackiego street.
5) Czackiego street is an area full of parking spaces – photo 3.
6) From Czackiego street, there is a shortcut to Mazowiecka street – Dowcip street, therefore the access from Czackiego street is comfortable and quick. This is presented in photo 4 and the map image (photo 6).

What should you do if you have come to us by car between, for example, 9:30 a.m. and 2:00 p.m.???

1) If you only come to quickly collect your correspondence:
- The gate in our building is not used by vehicles.
- Mazowiecka street is a one-way street with two lanes – some drivers leave their cars at one of the lanes with hazard lights on. This is typical for beer suppliers and courier companies. Between 10 a.m. and 12 p.m., the left lane is occupied this way, because at ground floors of the tenements there are bars to which beer barrels are delivered, and because couriers leave their vehicles here to deliver correspondence to local offices. However, the lane is not occupied in full, therefore personal cars are also sometimes left this way for a minute.
- At the junction of Mazowiecka - Kredytowa – Traugutta streets, there is a large island on which cars are parked and there is usually one free parking space on it (photo 2).
- An opinion that it is not possible to park between 9:30 a.m. and 2:00 p.m. is not true. Arriving between 2:00 p.m. and 3:00 p.m., one can find a free parking space right away, for example at Czackiego street – one does not have to look for a free space, therefore it will be the most convenient to visit us within these hours. Why get stressed at 12:00 p.m. if one can come at 2:30 p.m. and not to stress at all.

The above text is only a collection of drivers' observations. Before you park in the gateway or on an island, read the Highway Code. The author of the above text does not encourage anyone to violate traffic regulations, but quite the opposite – encourages to arrive at 9:00 a.m. or after 2:00 p.m.

2) If you are planning to stay longer, for example to sign an agreement:
- Photo 5 presents an area where there are free parking spaces available throughout the entire day – at the crossroads of Świętokrzyska and Marszałkowska streets.
- Driving from the direction of Wola district, you do not have to go straight ahead along Świętokrzyska street. You may as well turn right into Marszałkowska street and then drive through the underpass, Złota street and along Przeskok street. In Przeskok street you can start looking for a parking space. In Przeskok street, there are often free parking spaces available, as few people use this street.



Photo 1 - Mazowiecka street at 9.00 a.m. on a weekday – numerous free parking spaces.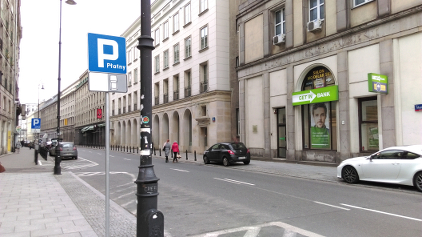 Photo 2 – an island at the junction of Mazowiecka, Kredytowa and Traugutta streets.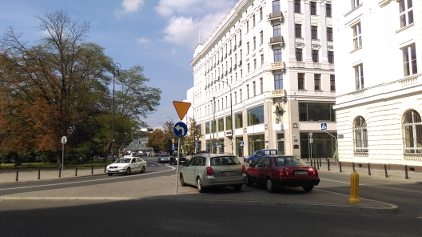 Photo 3 – Czackiego street is full of parking spaces, but it is the best to be there after 2:00 p.m., which does not mean that one will not find there any free space earlier. However, they are certainly available after 2:00 p.m.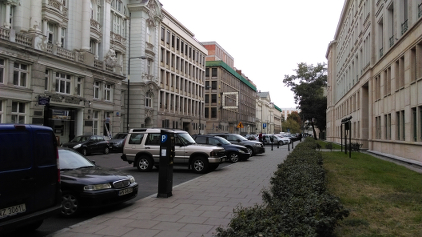 Photo 4 – a photo taken from Mazowiecka street towards Czackiego street through short Dowcip street, which is a shortcut between Mazowiecka and Czackiego streets.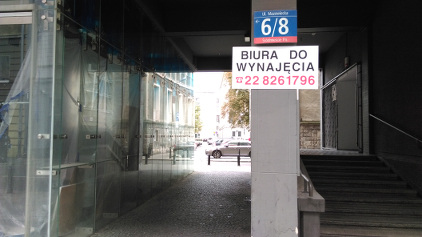 Photo 5 – the area of the crossroads of Świętokrzyska and Marszałkowska streets towards the direction of Wola district. In this area, there are free parking spaces all the time.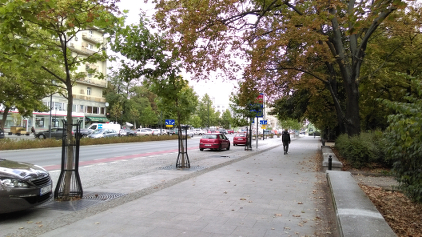 Photo 6 – the above locations have been marked. It is certainly also possible to park in Świętokrzyska and Mazowiecka streets. The general rule is that the closer to 9:00 a.m. or the afternoon hours from 2:00 p.m. it is, the more parking spaces in the city centre there are.